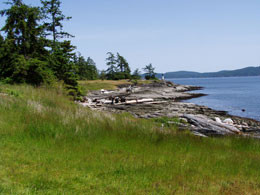 Ruckle Provincial Park is the largest Park in the Gulf Islands and has a fascinating farm history. The Ruckle family's involvement with this land dates back to 1872.
Irish emigrant Henry Ruckle first homesteaded here in 1872, marrying Ella Anna Christensen in 1877. Their descendants have farmed the Saltspring property for more than a century. Although they donated most of their property to the province for a park in 1974, the Ruckle family still raises sheep on private land at the entrance to the campground.
With its 7 kilometres of shoreline, rocky headlands and tiny coves and bays, Ruckle Park provides hours or even days of enjoyable exploration. A mixture of forest, field and shore habitats makes it one of the most productive wildlife viewing areas on Saltspring Island.
Tidal pools are filled with a brightly-coloured world of crab, mussel, limpet, oyster, sculpin, starfish and more.
On shore, birdwatchers can often catch sight of cormorants, grebes, guillemots, eagles, grouse or quail.
Pitch your tent at a numbered picnic table in the grassy meadows and enjoy the scenic view of Swanson Channel. Watch for sea lions and killer whales out in the sea, and mink and river otter cavorting along the shoreline.
Special Notes:
Ruckle Park borders private farming property. Visitors are asked to respect this property and to not interfere with the farming operation.
Services
Open year round with full service/full fee from March 15 to Oct. 31. There are 65 walk-in campsites and 4 RV sites (no hook-ups) which are non-reservable & an additional 10 walk-in sites and 4 RV sites are reservable from May 12 to Sept. 3rd. There are 3 Group Sites which can be reserved 12 months in advance within the Operating Season.  Firewood is available for $7.00 a bundle or you may bring your own. There is a day use area, extensive hiking trails, beachcombing and heritage farm buildings to explore.
Interpretive Programs run throughout the summer months.