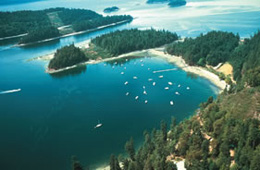 Rich in natural and cultural history, with white shell beaches, open meadows, tidal lagoons, towering forests and abundant bird life are just a few of the things that attract visitors to this park in the southern Gulf Islands.
Naturalists and bird watchers enjoy a climate and ecology found nowhere else, making Galiano Island a haven for many rare and protected plants and more than 130 species of birds.
The waters around Montague Harbour attract flocks of wintering birds including diving ducks like scoters, buffleheads, goldeneyes and mergansers.
Watch for sightings of the Great Blue Heron silently waiting to spear a fish or watch winged gulls and Belted Kingfishers as they search for a meal of crabs, clams and limpets along the rocky shorelines and tidal lagoon.
Visitors can moor their boats to one of the 40 buoys in sheltered Montague Harbour or come by ferry and camp in one of the scenic vehicle-accessible or walk-in campsites. The park is the perfect place to enjoy a picnic or afternoon of exploration. Located within the park is Gray Peninsula, which was inhabited by First Nations peoples before the arrival of Spanish explorer Dionisio Galiano in 1792. The park also features a salt water marsh between the main campground and Gray Peninsula and a white shell beach on the north side of the park marks one of several shell middens: castaway shells from years of harvesting to form berms along the foreshore– evidence of native occupation dating back more than 3,000 years.
Middens are protected under BC law. Do not disturb these archaeological sites. Help protect them by accessing the beach using the stairs where ever possible.
SERVICES
Open year round with full service/full fee from March 15 to Oct. 31. There are 16 drive-in sites (15 are reservable) & 28 walk-in sites (all reservable). Reservable sites are available from May 12 to Sept. 2. There are 40 mooring buoys (non-reservable), a floating nature house, amphitheatre, dock, boat launch and a day use area. . Firewood is available for $7.00 a bundle or you may bring your own. A Group Shelter Site, located in the walk-in campground, can be reserved 12 months in advance of the arrival date, within the operating season. Interpretive Programs run throughout the summer months, dependent on funding.