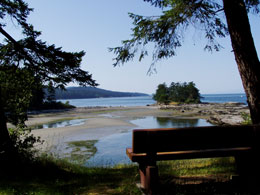 Approach at slack tide; currents in Porlier Pass can reach 9 knots. Anchorage is exposed to westerly winds.
Dionisio Point Provincial Park encompasses a thick forest, rich streamside vegetation and fragile wildflower meadows. In the Spring, a walk along the managed trails will delight Park Visitors with Fawn Lilies, Sea Blush and Shooting Stars.
PICKING OF WILDFLOWERS  IS NOT PERMITTED.
The intertidal area is just as rich, with sandstone shelves, pebble beaches and a tidal lagoon. Fast flowing tidal currents have created a rich intertidal life – sea-stars, nudibranchs and chitons can be seen in the tide pools, while eagles and gulls soar overhead.
Overlooking Porlier Pass, this park is accessible by boat only and provides opportunities for walk-in camping, fishing, boating, kayaking, wildlife viewing and scuba diving.
This park has a rich human history. Large mounds along the shores mark the shell middens (refuse heaps) that indicate native occupation dating back more than 3,000 years. Castaway shells left by centuries of harvesting formed berms on the foreshore of the park. These middens contain many of the archaeological clues that help to unravel the history of earlier cultures. Middens are protected under BC law. Do not disturb these archaeological sites.
SERVICES
There are 30 walk-in campsites which are non-reservable. Open from May 1st to Sept. 30th.  The Park is "marine access only" and NO FIRES are permitted.  Backcountry pre-registration is now available on-line @ http://www.env.gov.bc.ca/bcparks/registration.  Please keep a copy of your Backcountry Permit with you as proof of payment.